Shipping & Handling is FREE on all orders!


---


I am Ulster County: Amy Laber; Ulster Magazine, May-June 2012 Issue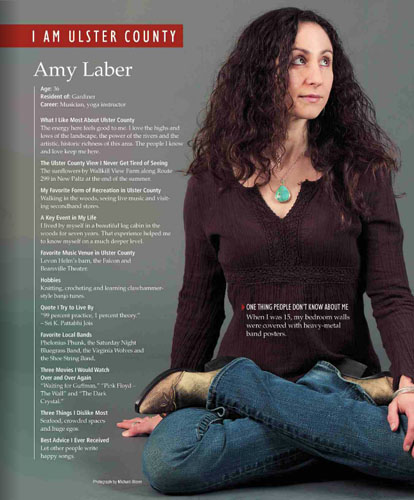 Resident of:
Gardiner
Career:
Musician, yoga instructor

What I Like Most About Ulster County
The energy here feels good to me. I love the highs and lows of the landscape, the power of the rivers and the artistic, historic richness of this area. The people I know and love keep me here.

The Ulster County View I Never Get Tired of Seeing
The sunflowers by Wallkill View Farm along Route 299 in New Paltz at the end of the summer.

My Favorite Form of Recreation in Ulster County
Walking in the woods, seeing live music and visiting secondhand stores.

A Key Event in My Life
I lived by myself in a beautiful log cabin in the woods for seven years. That experience helped me to know myself on a much deeper level.

Favorite Music Venue in Ulster County
Levon Helm's barn, The Falcon and Bearsville Theater.

Hobbies
Knitting, crocheting and learning clawhammer-style banjo tunes.

Quote I Try to Live By
"99 percent practice, 1 percent theory." -Sri K. Pattabhi Jois

Favorite Local Bands
Phelonius Phunk, the Saturday Night Bluegrass Band, the Virginia Wolves and the Shoe String Band.

Three Movies I Would Watch Over and Over Again
"Waiting for Guffman," "Pink Floyd - The Wall" and "The Dark Crystal."

Three Things I Dislike Most
Seafood, crowded spaces and huge egos.

Best Advice I Ever Received
Let other people write happy songs.

One Thing People Don't Know About Me
When I was 15, my bedroom walls were covered with heavy-metal band posters.
---

I am Ulster County: David Kraai; Ulster Magazine, September-October 2011 Issue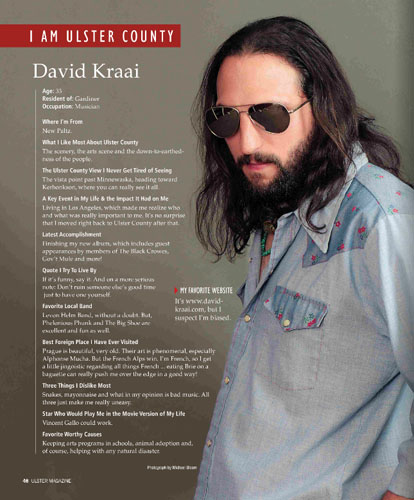 Resident of:
Gardiner
Occupation:
Musician

Where I'm From
New Paltz.

What I Like Most About Ulster County
The scenery, the arts scene and the down-to-earthed-ness of the people.

The Ulster County View I Never Get Tired of Seeing
The vista point past Minnewaska, heading toward Kerhonkson, where you can really see it all.

A Key Event in My Life & the Impact It Had on Me
Living in Los Angeles, which made me realize who and what was really important to me. It's no surprise that I moved right back to Ulster County after that.

Latest Accomplishment
Finishing my new album, which includes guest appearances by members of The Black Crowes, Gov't Mule and more!

Quote I Try To Live By
If it's funny, say it. And on a more serious note: Don't ruin someone else's good time just to have one yourself.

Favorite Local Band
Levon Helm Band, without a doubt. But, Phelonious Phunk and The Big Shoe are excellent and fun as well.

Best Foreign Place I Have Ever Visited
Prague is beautiful, very old. Their art is phenomenal, especially Alphonse Mucha. But the French Alps win. I'm French, so I get a little jingoistic regarding all things French... eating Brie on a baguette can really push me over the edge in a good way!

Three Things I Dislike Most
Snakes, mayonnaise and what in my opinion is bad music. All three just make me really uneasy.

Star Who Would Play Me in the Movie Version of My Life
Vincent Gallo could work.

Favorite Worthy Causes
Keeping arts programs in schools, animal adoption and, of course, helping with any natural disaster.

My Favorite Website
It's www.davidkraai.com, but I suspect I'm biased.
---

Roll Magazine, July 2011



       Though they've each made a name for themselves as solo artists, David Kraai and Amy Laber have come together as a duo for the first time, with their initial salvo in the once-again-popular 7" single format.

       The two-sided single is an ideal showcase for what the two bring to the partnership, with Laber taking lead vocals on the a-side and Kraai on its flip.

       Laber, who also plays guitar and banjo, sings "From New Orleans to the Moon" with a countrified voice that likely represents the folk side of the coin. Kraai's vocals, as heard on "Border Song," are on the outlaw side of the spectrum, full of travels over dusty paths. Kraai also plays guitar, mandolin and harmonica, with the latter lending "From New Orleans to the Moon" a Dylanesque depth to the romantic melody. "Border Song" is at once sparser and a bit more ominous, somehow delivering all the power of a full electric band through the two musicians and their shared harmonies.

       The limited edition vinyl single is available through their website, and comes with an individually numbered picture sleeve, a poster of original art by Kraai, and a digital download code for those who prefer to enjoy their music on the go. The website also features a free download of "You Can't Trust," on which Kraai and Laber trade vocals over a country shuffle that feels like a horse clip-clopping joyously down the trail.



---

Musicians Return to the Past with 45 Release; Poughkeepsie Journal, May 6, 2011



       Speaking with musicians David Kraai and Amy Laber this week brought back a memory I haven't thought about in — let's see, 33 years. I was speaking to these musicians this week about the David Kraai & Amy Laber Band show set for the High Falls Cafe in High Falls on Saturday night. You can expect originals, covers, country-folk and music in the vein of Waylon Jennings, Loretta Lynn and Merle Haggard, for starters. But what brought me back to my childhood, and one of my first forays into liking pop music, was the plan by Kraai and Laber to release a 45. Yup. That's right. A record with one song on each side that dates back to the early days of rock 'n' roll. The "45" refers to the rpm, or "revolutions per minute" the vinyl disc makes on a turntable.

       For their project, Laber will have one song and Kraai will have the other. My experience relates to the first 45 I ever bought, at the Caldor department store, which featured "YMCA" by the Village People. That logo for Casablanca Records, with the oasis in the desert, has remained with me for more than three decades. But I digress!

       Kraai and Laber will fuse the past with the present, and include a free digital download with the 45. Completing the package is a poster designed by Kraai. Head on over to www.davidandamymusic.com to check out the two songs on the 45, as well as a clever duet on a tune about a lack of faith in the opposite sex. You can also listen to Laber, whose vocals are passionate and maintain the spirit of June Carter Cash. Kraai's singing has a rougher edge and made me think of Chris Robinson from The Black Crowes.

       On Saturday, you can hear these two musicians perform for the first time in public with their new band — Charlie Kniceley on bass; Chris Ragucci on drums; and Josh Roy Brown on guitar and lap steel. In addition to singing on Saturday, Laber will play guitar and banjo. Kraai will sing and play guitar, mandolin and harmonica. I can say with near certainty that "YMCA" by the Village People will not be on their setlist.




---


For booking and performance inquiries, please send an email to:
info@davidandamymusic.com


To join the email list, please send an email to:
joinlist@davidandamymusic.com


Please visit David's website:
http://www.davidkraai.com



---
© 2017